Catching Up with Kris Keefer
Jul
16
2012
When you hear people say so-and-so is the nicest guy in the pits, you normally think the person they're speaking of is really just a regular, normal nice guy. Believe us when we say that Kris Keefer is easily one of the nicest people you've ever met, on and/or off the track. If you dont believe us, next time you see him at the track, go take a few minutes to talk to him. Growing up and still currently residing in the beautiful wide-open desert of Hesperia, CA, Kris has been blessed to be able to be in and around this sport for a long time. Racing for 20+ years, professionally for 10+ years, his talent and love for motocross is impeccable. Please take a few minutes to read a little bit about this guy!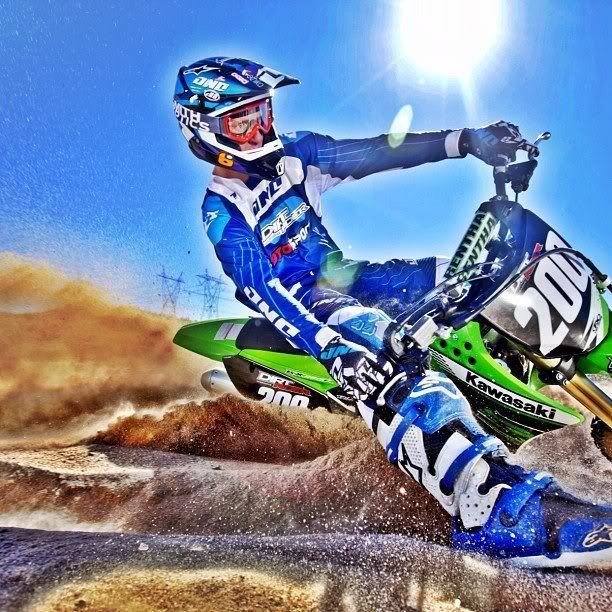 What's up Kris? How are you doing?
Good man. Another grand day up in the dez!
I hear you! Must have been great after last weeks rain. We've been privileged enough to give your sand track a whirl, and we'd have to say that Hesperia riding can get no better. What are you up to on this fine day?
Yeah, I've been to a lot of places and I'll have to say that the hi dez has some of the best riding after a rain. (Check out Kris taking a lap around his sand track right after a solid rain: https://vimeo.com/40383286) Today is like most others. Getting things together to test and gearing up for the week! Busy week ahead.
Right, right! I know you're always out and about in your line of work. Let's start from the beginning. Youve been in this sport for a long time... grew up racing and riding in the high desert of Hesperia, CA. How did you get into Moto?
Well, my family always was around dirtbikes and I got into desert racing, then from there, motocross. I knew I always wanted to race and ride since I was 5 years old. It's all I cared about.
I know you didn't grow up with an unlimited riding fund, but your family did everything they could for you to go racing. Starting off racing desert races then getting into tracks as an amateur, did you do the local thing which evolved into racing nationally or did your family go all in and put everything into you making a career of motocross?
No, my family wasn't rich at all. In fact, my mom had a disease called Multiple Sclerosis. She was in a wheelchair since I was i was 6 years old. My dad worked 2 jobs and I split my time riding after school and taking care of my mom, so my dad worked his ass off to get me to the races he could. He supported me with a bike and parts. As my mom got worse, I had to be around the house more to take care of her, so I did what I could. Family was always first in my household, then came dirtbikes. When I turned 18 I was on my own pretty much. My dad told me "hey look, I just can't afford racing anymore" so I did it on my own. In 2004 I had my best Supercross season making every night show and few mains. It was the best time of my life! My mom passed in 2005, one week before A1, and I just kind of deflated and rode like shit that year. My mom and I were really close and I think it affected me a lot that year.. But, I started another chapter in Canada racing for the factory KTM team up there for 3 years.
I can't even imagine... That's horrible, to say the least. To keep pushing after all of that and progress is very commendable. Was there any one factor that helped you be determined to continue on with racing after your mother passed?
My mom was a tough lady! She didn't complain and never said why me. She always said do what you love so I never gave up. I accomplished a lot in my racing career and I'm proud. Not a lot of kids could do what I did and they had way more. My parents were blue collar people and they worked their asses off. That's how I wanted to be with my racing.
Anyone would agree with us saying that she is definitely proud of you. That's great! So after all of this, you continued to improve and landed a spot on the factory KTM team up in Canada. How did all of that unfold?
Well I was test riding for KTM north America and Andy White from KTM Canada needed a rider so he contacted me. Raced for him in 2005 2007 and 2009. I also did a couple races in between those years. Testing really started taking more of my time and I realized I could make a living "riding" motorcycles vs. "racing" them so I went in that direction.
Well, if you could choose one moment in your entire racing career when you were still actively racing week in and week out with strictly racing as your main focus, what would be your most memorable result or race for you?
Most memorable race was 2004 A3 when I holeshotted my heat race and led until the white flag. Qualified for my first main!
Very nice! Not many can say they have gone out and raced with the best of them! So after you decided to shift focus from racing to riding, everything fell together for you and you became a test rider and developer for many major brands. Currently, you're also a test rider for Dirt Rider Magazine. Tell us a little about how this all came together, what you have done in the past testing-wise, and what you currently do today.
I was testing for Dirt Rider magazine in 2001 in between races etc. Karel Kramer gave me a shot and I looked good in photos and I could always give good feedback as a rider so they started using me more and more. That led to a job as a contract test rider for Yamaha and KTM. The most memorable stuff I got develop was the YZ 250f before it came out to public and the current GYTR YZ 450 mod head that a lot of teams are running. What I currently do today is work for Dirt Rider magazine and run my own testing company called Keefer Inc. I test many different companies products and give them feedback and break down there parts piece by piece.
So as a test rider, what is your normal schedule? How does the whole testing process go? What would you say are the best and worst parts of testing?
My normal schedule is I usually get the work week lined out on Sunday night. Each day might be a different test so it just depends. The funnest days are obviously new bike releases. There really is nothing that's the worst but the hardest days are "durability" days. Usually those days consist of 12 hours of riding. Hard on the butt! I have to spackle my ass with bag balm on those days.
Nice! I regularly see that you're always out and about putting hours in on bikes and parts. So, other than helping develop the production bikes for KTM and Yamaha, what are some of the companies you currently work with or have worked with in the past? So you basically are open for any company that wants to develop their product to contract you out to make sure their product goes in a direction they want it to. How can interested parties get in contact with you?
Exactly! Any company can get a hold of me at krissocal@msn.com or through my business cell at 1-760-985-2044. I basically get contracted per day to evaluate their products on the track. Companies I have helped to date are Yoshimura, Ride Engineering, GYTR, Kali Protectives, and Smith Optics.
Very cool... You still train and ride at a ridiculously high level and also still get out there and race the local pro classes when you can. On top of racing locally, you also planned to contest a few of the early rounds of the nationals before things came up. Do you have plans to race big events here in the U.S. or Canada again in the future?
I always have plans to race, but I just get busy with testing and I seem to burn out sooner than I used to 10 years ago. If testing slows down, I would love to race a couple more outdoor nationals. I also want to race an endurocross too! I love to ride off-road too still. Canada is like my second home... everyone is so rad up there and I hope Andy White invites me back to race a couple more soon!
Nice! Mixed in with your busy work schedule of a lot of testing, riding, and racing, you also live a normal life with a family at home. You have an awesome and extremely supportive wife named Heather and one of the coolest kids we've ever met, Aden. I know you guys have been doing the BMX thing, is moto next for your son? Do you think he'll be following in your footsteps?
My wife is really supportive and amazing. My son Aden is wide open and loves bikes. I put him in BMX just so he can learn a little more without the huge risk. I'm sure he'll race but I don't want to push him. He can do whatever he wants. I wish he would play football cause I love that sport too! He watches videos all the time. He knows the "overrev" song from the youtube video "shit motocrossers say" by heart! He's a funny kid.(http://www.youtube.com/watch?v=MWs7lbSPmg4)
OK Kris, we've taken A LOT of your time today and greatly appreciate you not hating us for it. Let's wrap this thing up! One final question and well let you get back to your family... is there anyone out there that you want to thank?
I want to thank you guys for the interview. I'd also like to thank my family and friends for being supportive. My wife especially, for putting up with me. I also would like to thank Dirt Rider magazine for giving me my start in the testing world. Another huge person that has helped me with racing is Tony Pasha Panterra, I owe him a lot also. All of my other personal sponsors: One Industries, Smith, Kali, BTOsports.com, Alpinestars, Renthal, Maxima, Works Connection and Ogio. I love riding dirtbikes and it all wouldn't be possible without these people.
Thank you again for your time, Kris! We look forward to talking to you again soon!
Remember this GoPro video of Destry Abbott taking a serious soil sample at Millville last month? Kris was the man behind the cam.
Video: dirtridermagazine